Review Article
Advances in systemic treatment for nasopharyngeal carcinoma
Current systemic treatment for nasopharyngeal carcinoma (NPC)
The optimal treatment of NPC involves a multidisciplinary approach. NPC (especially the endemic subtype) is a radiosensitive tumor, and as its deep-seated anatomic location limits a surgical approach, radiotherapy (RT) has been the mainstay and primary curative treatment modality. Whilst early stage NPC can be treated with RT alone with five year survival rates of more than 90% (1); survival rates decline with increasing tumor and nodal stage to only 50–70% at 5 years with locally advanced disease. Unfortunately, more than half of all patients will present at an advanced stage, with 10% of patients harboring distant metastases at the time of initial diagnosis. The development of concurrent chemoradiation (CRT) strategies has been important in improving treatment outcomes in locally advanced NPC, with no fewer than nine randomized clinical trials demonstrating that addition of concurrent chemotherapy during radiation leads to improved progression-free survival and response, and with overall survival (OS) benefit being demonstrated in the majority of trials (Table 1).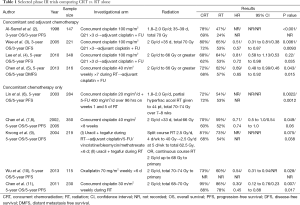 Table 1
Selected phase III trials comparing CRT
vs.
RT alone
Full table
The landmark phase III Intergroup 0099 (INT-0099) compared CRT with high dose cisplatin followed by adjuvant fluorouracil (5-FU) and cisplatin chemotherapy versus conventional RT alone, and showed a significant survival benefit of 31% increase in 3-year OS with the addition of chemotherapy (2). Following this, many other trials, including Phase III trials published from Singapore and Hong Kong (3-7) also demonstrated similar, albeit smaller degree of benefit from concomitant chemotherapy. Cisplatin was employed in the majority of studies, usually either at a high dose 3-weekly (at 80–100 mg/m2) or a weekly low dose at 30–40 mg/m2 during RT. While no study has compared the efficacy of the weekly vs. 3-weekly cisplatin regimen, several retrospective analyses appear to show similar outcomes (12-14), and the published data supports the conclusion that either of these dosing regimens is acceptable and equivalent in terms of toxicity and efficacy. The cumulative dose of cisplatin delivered during CRT may impact on locoregional control and OS (15,16), and the survival benefit may be larger in patients with T3 and T4 tumors (8,10). Other drugs such as oxaliplatin, tegafur-uracil have been evaluated only in limited studies (9,17) and do not yet form part of standard therapy. In patients with borderline renal function, or who experience significant toxicities associated with high dose cisplatin, carboplatin can be considered as a substitute for cisplatin, based on a phase III randomized non-inferiority trial which demonstrated equivalent survival outcomes with either cisplatin or carboplatin concurrent with RT and followed by adjuvant chemotherapy (18). As expected, patients treated with cisplatin experienced more renal toxicity, leucopenia, anemia, nausea and vomiting, whereas patients with carboplatin had more thrombocytopenia. A higher proportion of patients in the carboplatin arm completed the planned CRT as well as the planned adjuvant therapy.
Three meta-analyses have also supported the benefit of chemotherapy, reporting an 18% reduction in the risk of death and absolute survival benefit of 4% to 6% at 5 years (19-21). The latest update from the MAC-NPC meta-analysis (22) which included 19 trials and 4,806 patients, with a median follow up of 7.7 years, confirmed that the addition of concomitant chemotherapy to RT significantly improves survival in patients with locoregionally advanced NPC (HR for OS 0.79, P<0.0001; absolute benefit at 5 years 6.3%).
---
Adjuvant and neoadjuvant chemotherapy for non-metastatic advanced NPC
While there is established benefit from concomitant chemotherapy with RT, the role of adjuvant chemotherapy after CRT is uncertain. Initial trials of chemotherapy in locally advanced disease involved administration of chemotherapy concurrently during RT followed by adjuvant chemotherapy (usually comprising of platinum and 5-FU, i.e., PF), based on the observation that a significant proportion of patients with NPC relapse at distant sites despite local control of disease. These studies demonstrated an OS benefit from this strategy. However, compliance to adjuvant chemotherapy was a significant problem with only about 50–75% of patients who were initially planned for adjuvant chemotherapy receiving the three planned cycles. Furthermore, there were significant toxicities associated with administration of adjuvant chemotherapy, with 23–43% of patients experiencing grade 3–4 toxicities (2-4). In addition, other studies which evaluated concurrent chemotherapy without adjuvant chemotherapy (8,10,17) yielded similar outcomes compared to trials comprising concurrent chemotherapy and adjuvant, calling into question the true benefit of adjuvant chemotherapy to disease control in NPC. However, in the MAC-NPC meta-analysis, the subgroup of patients receiving CRT followed by adjuvant chemotherapy appeared to have a bigger survival benefit compared with CRT alone (HR 0.65, 95% CI, 0.56–76 vs. HR 0.80, 95% CI, 0.70–0.93) (22).
A Chinese phase III trial looked at the role of adjuvant chemotherapy following CRT in 508 patients with non-metastatic advanced NPC (23); patients were randomized to adjuvant chemotherapy (three cycles of cisplatin plus 5-FU) or observation, following CRT consisting of weekly cisplatin at 40 mg/m2 for maximum of seven cycles, starting from day one of RT. After a median follow-up of 37.8 months, there was no statistically significant improvement in the 2-year failure-free survival rates (86% vs. 84%, P=0.13). This study had been criticized for its relatively short follow-up period, exclusion of T3–4N0 patients, variability of RT technique and the choice of chemotherapy regimen; furthermore, only 63% of patients could complete planned chemotherapy.
The role of induction chemotherapy followed by RT or CRT is similarly uncertain. In theory, induction or neoadjuvant chemotherapy may control micrometastases earlier and facilitate RT planning by downstaging locally advanced tumors, especially for large T4 lesions, advanced nodal disease, or when delivery of a full course RT is challenging due to close proximity to critical structures (like the optic bundle and brain). However, to date, the phase III studies on neoadjuvant chemotherapy followed by RT alone have not shown any difference in OS compared with RT alone (24-26). The updated MAC-NPC meta-analysis included data from 6 trials on induction chemotherapy and showed a statistically significant improvement in progression free survival but not in OS (22). A randomized phase II trial by Hui and colleagues showed that neoadjuvant docetaxel plus cisplatin followed by concurrent cisplatin-RT was feasible with manageable toxicities compared to CRT alone, with positive survival impact (3-year PFS for neoadjuvant vs. control was 88.2% and 59.5%, P=0.12; 3-year OS was 94.1% vs. 67.7% respectively, P=0.012) (27). However, subsequent randomized phase 3 trials evaluating neoadjuvant triplet chemotherapy prior to CRT versus CRT alone did not show any benefit of neoadjuvant chemotherapy on PFS nor OS (28,29). In the phase 2/3 study reported by Tan et al. (29), a triplet regimen of gemcitabine, carboplatin and paclitaxel was administered for three cycles followed by CRT with weekly cisplatin 40 mg/m2 and compared with the same CRT regimen alone. There was no difference in outcomes in both arms. Conversely, while there was good compliance to neoadjuvant therapy, with no statistically significant difference in grade 3 and 4 radiation toxicities as well as similar global quality life scores between the two arms, the neoadjuvant arm had lower dose intensity of cisplatin compared with the control arm during the CRT period, and higher rates of leukopenia and neutropenia (29). This highlights the main concern of induction/neoadjuvant approaches possibly compromising on effective dose delivery of chemotherapy and/or radiation during the CRT period, or increasing toxicities, thus offsetting any potential benefits of an induction-based approach.
In light of this, additional phase III clinical trials are underway to confirm the optimal approach. The Hong Kong Nasopharyngeal Cancer Study Group conducted a 6-arm study (NCT00379262) comparing concurrent-adjuvant chemotherapy (using the Intergroup 0099 regimen of concurrent cisplatin-RT and adjuvant PF as the standard arm) with induction-concurrent chemotherapy. It also explored the benefit of replacing 5-FU with capecitabine, and the use of accelerated RT vs. conventional RT fractionation. Preliminary analyses did not meet its study endpoints, as induction PF versus adjuvant PF did not indicate any significant improvement in outcome; other results suggested that oral capecitabine may be a safe substitute for 5-FU, but accelerated RT is not recommended for patients with locally advanced NPC who receive CRT due to higher toxicities (30). As final results of this study are awaited, two other ongoing studies are ongoing in China are evaluating induction TPF followed by CRT compared with CRT alone (NCT01245959), and induction TPF compared with induction PF followed by CRT (NCT01536223). Overall, the role of neoadjuvant chemotherapy in stage III-IVB NPC at present is still investigational and not standard of care.
While current data has not fully defined the role of adjuvant chemotherapy, the current focus of research has shifted somewhat towards two strategies of (I) identification of patient subgroups that may benefit most from adjuvant chemotherapy; and (II) exploration of different chemotherapy regimens apart from cisplatin/5-FU. Based on previous findings that elevated levels of EBV post-treatment correlated with higher risk of recurrent cancer, the NRG-HN001 (NCT02135042) trial will stratify patients based on post-treatment EBV levels. In this study, patients with detectable EBV levels will be randomized to standard cisplatin/5-FU versus gemcitabine/paclitaxel (randomized phase II), while patients with undetectable EBV DNA levels will be randomized between standard adjuvant cisplatin/5-FU versus observation (phase III). Another ongoing study initiated in Hong Kong randomizes patients with residual EBV DNA to either adjuvant gemcitabine/cisplatin chemotherapy or observation (NCT00370890). These studies will enable better understanding of the benefit, if any, of adjuvant and/or induction chemotherapy, help select the optimal patient population who will benefit, and delineate the optimal chemotherapy regimen.
---
Systemic treatment for stage II NPC
Although the prognoses of patients with stage I and stage II NPC are generally excellent, a few studies have highlighted that particularly in stage II NPC with nodal disease, survival rates may be poorer than stage I disease with more frequent loco-regional as well as distant recurrences and survival rates of only about 73.1% in certain series (31,32). In patients treated with IMRT alone, 5-year distant-metastases-free survival rate was 94% in patients with T2N1 disease compared with 99–100% for T1–2N0 or T2N0 NPC (33). Chen et al. randomized patients with previously untreated stage II NPC (T1–2N1M0 or T2N0M0 disease with parapharyngeal space involvement) to concurrent weekly cisplatin at 30 mg/m2 during RT and RT alone. They reported a significant improvement in OS (5-year OS 95% vs. 86%, HR 0.30, P=0.007) (11). However, there are some caveats from this study, such as routine body computed tomography not being included in the pre-treatment staging, and all patients having undergone 2D RT when IMRT is now treatment of choice. It is also noteworthy that 31 of these patients (13%) were upstaged to stage III when they were restaged according to the 2010 revised TMN staging system. The National Comprehensive Cancer Network (NCCN) clinical practice guidelines in oncology (version 1.2015) (34) recommends CRT for patients with stage II NPC; so does the European Head and Neck Society–European Society for Medical Oncology-European Society of Radiotherapy and Oncology Clinical practice guidelines (35). Given the significant toxicities of concurrent chemoradiotherapy and the generally excellent prognosis of stage II nasopharyngeal cancer with IMRT, the role of administering chemotherapy concurrently with radiation in all stage II patients remains to be clearly defined, although consideration on individual bases should be made based on risk factors such as significant nodal disease, parapharyngeal tumor extension, and plasma EBV level.
---
Limitations and ongoing investigative approaches in locally advanced NPC
Despite significant improvements in outcomes in NPC with administration of concurrent chemotherapy with radiation, survival in patients with locally advanced NPC is still only 50–70% at 5 years, with a substantial proportion of patients experiencing relapse either loco-regionally, or at distant sites, or both. Given the already significant toxicities of CRT, addition of further chemotherapeutic agents to current treatment regimens is not a feasible approach. Instead, further research is directed towards firstly identifying and defining patients at high risk of relapse prior to, and at the end of CRT, for which further investigative approaches can be focused on. Secondly, use of biological agents concurrently with RT or with chemoradiotherapy is being evaluated.
Overexpression of epidermal growth factor receptor (EGFR) is present in 80% or more of NPC, and is associated with poorer survival outcome (36,37). In head and neck squamous cell carcinoma, administration of cetuximab, a chimeric monoclonal antibody directed against EGFR, concurrently with RT in locally advanced HNSCC led to significant improvement in OS compared with RT alone (38). In NPC however, evaluation of cetuximab concurrently with RT has not been shown to be more efficacious compared with standard CRT, and was associated with increased mucositis rates (39). The combination of cetuximab, weekly cisplatin and IMRT was evaluated in stage III/IVA and IVB patients (40). This study demonstrated significant mucositis in more than 80% of patients, grade 3 radiation dermatitis in 20% of patients and acneiform rash related to cetuximab in 10% of patients, with 2-year PFS rate of 89%. Nimotuzumab is a humanized monoclonal antibody against EGFR which has significantly lower rates of mucosal and skin toxicities (41). The combination of nimotuzumab concurrently with radiation or CRT has shown efficacy in improving locoregional control and OS in locally advanced HNSCC (42); although its role in NPC remains to be defined (43).
The feasibility of administration of bevacizumab, a monoclonal antibody directed against VEGF, concurrently with chemoradiotherapy in stage IIB–IVB NPC was evaluated in a phase II trial, with grade 4 hemorrhage or grade 5 adverse events as the primary end point. Neither grade 3 or higher hemorrhages nor grade 5 events were recorded, yielding 2-year PFS of 74.7% and 2-year OS of 90.9% (44).
Clearly, a therapeutic plateau in the refinement of therapy in locally advanced NPC has been reached, with combinations of biological agents or molecularly targeted therapies with RT/CRT not showing significant improvements over standard therapy and at the cost of incremental toxicities. A key limitation of these studies that raises concern is about increasing short- and long-term side effects in this patient population of which more than half may be cured of their cancer eventually.
---
Palliative chemotherapy for metastatic and recurrent NPC
NPC is a chemo-sensitive tumor and palliative chemotherapy plays an important role in disease control and prolonging survival in the metastatic setting. Standard treatment comprises chemotherapy with platinum doublets of drugs such as gemcitabine, paclitaxel, and 5-FU together with cisplatin/carboplatin. For treatment-naive patients who receive platinum-based chemotherapy, response rates as high as 80% and a median survival of 12 to 18 months may be achieved (45). Higher response rates are associated with combination regimens rather than monotherapy, and no particular platinum regimen is regarded as superior or as standard of care. However, regardless of the chosen first line treatment regimen, median time to progression remains relatively constant and static at 7–10 months (46-48); in part due to the development of platinum resistance. A triplet drug regimen of gemcitabine/carboplatin/paclitaxel showed impressive response rates of nearly 80%, however the reported median duration of response of 8 months was similar to historical controls of two-drug regimens (49). In patients progressing after first line platinum therapy, common cytotoxic agents used for second line include 5-FU (including capecitabine), taxanes (paclitaxel, docetaxel), irinotecan, vinorelbine, and gemcitabine, but response rates are generally lower compared to first-line therapy. Phase II trials of second-line monotherapy or combination regimens reported response rates ranging 14% to 48% (50-53) and to date there is similarly no single treatment regimen that is considered as the standard of care. Further phase III trials are needed to establish the optimal palliative chemotherapy regimen. On the other hand, it is increasingly clear that further utility of chemotherapy beyond 2nd or 3rd line therapy may not yield significant and meaningful prolongation of survival in a majority of patients.
---
Novel therapies: molecular-targeted agents, immunotherapy and vaccines
The development of novel therapies in NPC has been somewhat slow, with little advances beyond standard cytotoxic approaches in the past 10 years and only exploratory phase II studies. Molecular agents that inhibit EGFR-mediated signaling pathways leading to cell growth suppression and cell apoptosis in NPC include monoclonal antibodies such as cetuximab (37), and tyrosine kinase inhibitors such as gefitinib (54). A multicenter phase II study by Chan and colleagues (55) evaluated the combination of cetuximab and carboplatin in platinum-resistant recurrent NPC, and demonstrated clinical activity with an overall response rate of 11% and acceptable safety profile. However, the response rates and PFS do not appear superior to chemotherapy alone. Gefitinib monotherapy had poor response rates in a phase II single-center study in recurrent and metastatic NPC pretreated with platinum-based chemotherapy (56).
Multi-kinase inhibitors target various receptor tyrosine kinases such as platelet derived growth factor receptor (PDGFR), vascular endothelial growth factor receptor (VEGFR), fibroblast growth factor receptor (FGFR) and stem cell factor receptor (c-KIT). These are involved in the initiation of various cascades of intracellular signaling events that lead to cell proliferation and/or influence processes critical to cell survival and tumor progression, such as angiogenesis, inhibition of apoptosis and metastasis, on the basis that simultaneous inhibition of these targets may reduce tumor vascularization and trigger cancer cell apoptosis and lead to tumor control. Drugs such as sorafenib (VEGFR, PDGFR, Raf kinases), pazopanib (VEGFR, PDGFR, FGFR, c-KIT), and sunitinib (PDGFR, VEGFR, C-KIT), have been evaluated in NPC (57-60). Pazopanib was evaluated in 33 patients at a dose of 800mg daily, this demonstrated a modest response rate of 6.1%, disease stabilization in more than 50% patients and notably 21% of patients had partial response/stable disease lasting at least 6 months. However, two grade 5 events of tumor hemorrhage occurred. Other toxic effects were fatigue, hand-foot syndrome, anorexia and gastro-intestinal side effects (57). The use of sorafenib monotherapy at a dose of 400 mg twice daily showed a response rate of 3.7%, stabilization of disease in 37%, but only modest survival with time to progression of 1.8 months and median OS 4.2 months, albeit with good tolerability in a phase II trial (58). While the combination of sorafenib with cisplatin and 5-FU showed good response rates of more than 70% and median PFS of 7.2 months and median OS of 11.8 months amongst chemotherapy-naïve patients, this did not appear significantly better compared with historical controls of chemotherapy alone (59). In addition, major side effects of hand-foot skin reaction, myelosuppression, gastrointestinal reaction and 22.2% incidence of hemorrhage and one grade 5 toxicity related to tumor hemorrhage were noted. A phase II study evaluating sunitinib recruited fourteen patients and was stopped prematurely after two grade 5 hemorrhagic events occurring in patients with local tumor invasion into the carotid sheath within the first cycle, and other hemorrhagic events such as epistaxis, hemoptysis and hematemesis being reported in 64% patients (60). In view of the modest response rates, as well as the significant risk of hemorrhagic events and other toxicities associated with the use of these multi-kinase inhibitors, their use currently remains experimental and limited to clinical trial settings.
In cancers such as lung adenocarcinoma, the advent of molecular profiling approaches, better understanding of the tumor genomics and differentiation into various tumor subtypes based on histology has allowed identification of numerous genomic alterations and potential therapeutic targets. This in turn has led to a new era and treatment paradigm with molecularly targeted agents in NSCLC, and significant improvements in disease outcomes have been achieved in select patient subgroups (61). On the other hand, NPC has a relatively low mutational burden comparatively. Whilst various mutated genes have been identified as possible driver mutations in NPC—including TP53 and PIK3CA, genes involved in chromatin transcription (BAP1, MLL2, TSHZ3), as well as those involved in cell proliferation (ERBB3, ERBB2, KRAS, NRAS), prevalence rates of these mutations are nonetheless low (62). Apart from the low prevalence of mutations, further development of targeted therapies for NPC has been slow, also contributed by the difficulty in establishing preclinical NPC cell models to test proof-of-principle of therapeutic approaches and study drugs against actionable genetic aberrations in culture, such as the ERBB-PIK3CA signaling pathway.
The widespread existence of type II latent EBV infection in nonkeratinizing NPC has triggered interest in EBV-directed therapies, especially since activated CD8+ T cells have been shown to attack tumor cells and cause tumor regression in NPC models (63). EBV viral antigens expressed by NPC tumor cells [EBNA1, latent membrane protein 1 (LMP1), and LMP2] form good targets for the immune T-cell system. On this basis, adoptive immunotherapy strategies which involve the use of autologous EBV-specific cytotoxic T cells (CTL) to induce LMP2 specific immune response, as well as active immunotherapy using EBV vaccination with dendritic cells (professional antigen-presenting cells) and viral vectors-introduced peptides to activate cytotoxic T-cells (64,65), are being evaluated. These have shown clinical efficacy in heavily treated patients with NPC, and phase II and III trials are presently in progress (NCT00834093, NCT00953420, NCT01094405 and NCT02578641).
Immune checkpoint blockade with novel drugs which target programmed death-ligand 1 (PD-L1) or its receptor, programmed death-1 (PD-1), modulate the immune system by blocking ligand activation of the PD-1 receptor on activated T cells, and have been shown to be an effective therapeutic strategy in a variety of tumors including melanoma, renal cell carcinoma and lung cancer (66-69). Some of these studies report a correlation between PD-L1 positivity and response (69). The activity of pembrolizumab, a selective humanized monoclonal antibody against PD-1, was evaluated in a variety of solid tumors in the KEYNOTE-028 phase 1b trial. Amongst 27 NPC patients enrolled, the overall response rate was 22.2%, stable disease rate was 55.6%, and median response duration of 10.8 months. Grade 3–5 treatment-related adverse effects were hepatitis, pneumonitis, anemia, facial pain, increase blood creatinine phosphokinase, proteinuria and sepsis, with one treatment related death due to sepsis (70). In view of the promising activity of immune checkpoint inhibitors, various phase II trials are underway in recurrent/metastatic NPC, such as the KEYNOTE-122 randomized phase II study evaluating pembrolizumab versus standard treatment (capecitabine, gemcitabine or docetaxel) in platinum pre-treated NPC (NCT02611960); and another multicenter phase II single-arm study evaluating nivolumab (anti-PD1) in patients with recurrent and/or metastatic NPC (NCT02339558). Based on the significant benefit that these drugs have shown in other tumor types, we eagerly await the results of these studies.
---
Conclusions and future directions
Systemic chemotherapy is an integral part of the multidisciplinary management of NPC, both in the curative and palliative setting. Despite the inherent chemoradiosensitivity of NPC, relapse at both distant and/or local sites is not uncommon particularly amongst patients with locally advanced disease. Ongoing strategies are focused towards identifying patients at high risk of relapse and optimizing CRT as well as adjuvant chemotherapeutic regimens particularly for these patients. In the metastatic setting, despite the relative chemosensitivity of NPC, resistance to chemotherapy inevitably develops with median OS generally less than 24 months. Novel strategies evaluating EBV directed immunotherapy as well as immune checkpoint blockade may offer new hope in palliative treatment of NPC.
Further prospective randomized clinical trials are needed to gain insight into how best we can combine sequence and utilize the different treatment modalities (RT, chemotherapy, and novel therapeutics) based on individualized assessment of each patient's disease and clinical condition. Other than improving survival outcomes for the patients, an imperative will be to look into strategies to reduce acute and long-term treatment-related toxicities, so as to improve the overall quality of life and survivorship for these patients.
---
Acknowledgements
None.
---
Footnote
Conflicts of Interest: The authors have no conflicts of interest to declare.
---
References
Cite this article as: Tan WL, Tan EH, Lim DW, Ng QS, Tan DS, Jain A, Ang MK. Advances in systemic treatment for nasopharyngeal carcinoma. Chin Clin Oncol 2016;5(2):21. doi: 10.21037/cco.2016.03.03